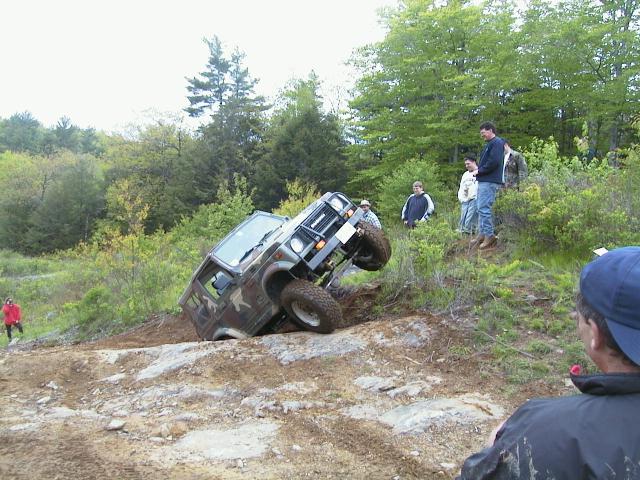 Zook'In 2K Info page.
Dates- Sept. 30th-Oct1st Rain or shine.
Location- Westhampton Massachusetts.
This is a Suzuki Only run, With some basic equipment requirements.
There will be a maximum of 15 rigs allowed to sign up.
There are no fees for the runs only the campground cost which you pay to the campground.
CAMPGROUND/Meeting place
We will be based from Windy Acres campground in Westhampton Mass. You are responsible for
your reservations, You will need to call 413-527-9862 ask for Nancy. Tell her its the safari area
and you are with Glenn Louds group. We will be staying in the Safari area. It has a nice open
area where we can have our Bring your own BBQ on sat night.
All the sites there are supposed to have water/elec hookups. Bathrooms are close by.
Here's the address 139 south rd Westhampton Mass. 01027 Rates are $18.00 a night This is for
a family of up to 5 (2 adults 3 children) I will post a map soon.
CONTACT INFO- I would prefer that we do this over the net, But if you absolutly need to talk to
me I can be reached at 413-545-3767 days/During the week, or email me at glenn@cs.umass.edu
or gloud@javanet.com
I will be at the campground until 9-10 pm on Friday night to help everyone get settled. I will be
staying at my house as I live 1 mile away.
Hotels/motels- If you don't want to camp let me know And I can fax/send you a list.
Food- You will need to bring your own food for all meals, We will not be supplying any.
there is a country store/deli up the street that has good food. Bring lunch/Non alcoholic drinks
for the runs.
Equipment requirements:
I will do a tech inspection, My word goes! (But we will try to help you fix things if time permits).
Please don't show up with a Junker and expect to go. Your truck should be reliable and in good
shape.
29" tires + (aggressive tread) (If you have a rear locker you can be smaller)
tow hooks (f/r) or winch and rear hooks (This is really important.)
hard top or roll bar (Check to make sure there's no rust under the stock bar!!)
working seat belts for ALL passengers.
at least 20,000 pound tow strap (Looped ends NO HOOKS)
You MUST have all equipment secured in the back of your truck! Stay away from bungy cords
if possible, go with nylon straps. We don't need someone getting bonked by a High-lift!
(RECOMMENDED/Optional)
Fire extinguisher
First-aid kit
locker in rear
hi-lift jack
CB Radio for on trail communications
Warm clothes
Full size spare tire
tools and spares.
I will Not tolerate any Drinking of alcoholic beverages or Illegal drugs on the trail at all.
you will be asked to leave if you violate this rule. If you can't have fun without these don't
come at all. A beer or two at night is a different matter.
We will assemble at 9 am both days and run to the trails as soon as we are ready.
HINT: Fill your rig up with Gas before you come out to the campground. There are NO gas stations
in town. The nearest is in Easthampton or Leeds. I will supply a compressor for airing up at my
House both days. Sunday we can gas up on the way to the trail if need be. Also I will make my work
shop available for repairs. (Welding too.)
Trails- Sat: #1 trail, - Rocky/granite ledges/mud holes , , Challenging/extreme in
places. You would beatup a stocker badly on this trail. If we finish
this at a decent hour we will be doing special tests, challenges
for prizes.
Sunday : #2 trail- (Tentative) - ledges/climbs , there is
one section (The Rock garden) that unless you have 2 lockers/33's/
winch you will just spectate. Expect breakage if you run this part.
(There is a road that go's around too so we can go up top and watch
them break their trucks...) and have lunch.
This will be an all day run/ if everyone wants to leave early on Sun then I
will choose another trail closer to The campground.
Directions to campground
You must also print out and send to me this waiver /sign-up sheet Otherwise you are not considered
signed up. WAIVER
Rev 4.0