My complete academic genealogy:
Grandkids!

Matt's PhD students include professors at Navaminda Kasatriyadhiraj Royal Air Force Academy, Utah State University, University of Washington at Bothell, University of Central Missouri, and Seoul Women's University.
Aruna has many PhDs in the pipeline including recent graduates Dr. Jian Xu and Dr. Yi Cao.



My students: I've awarded many MS degrees and a few PhDs. For many students, I don't have pictures, but the list of fantastic graduate students that I've worked with in the past is Nathan Baughman, Nandini Natarajan, Kevin Labonte, Bridget Dahill, Yoshiya Kinuta, Katrina Hanna, Jacky C.-K. Chu, Daniel LaFlamme, Ping Hung-Lee, George Bissias, N. Boris Margolin, Matt Yurkewych, Michael Barry, Aaron St. John, Anthony Bellissimo, John Burgess, Patrick Stahlberg, John Tuttle, Steve Hannum, Aruna Balasubramanian, Swagatika Prusty, Ryan Hurley, Jingyi Guo, Hamed Soroush, Jim Partan, Saksham Varma, Keen Sung, and Pinar Ozisik... I'm proud of all of them!


My students to graduate with a PhD so far are: Dr. Matthew K. Wright, currently Professor at Rochester Institute of Technology; Dr. Marc Liberatore now Teaching Faculty at UMass; Dr. George Bissias, now a Research Assistant Professor at UMass; and Dr. Aruna Balasubramanian, now an Assistant Professor at SUNY Stony Brook. Dr. Hamed Soroush is now a Principal Investigator and Technical Team Lead at PARC. Dr. Jim Partan has continued on as a research engineer at the Woods Hole Oceanographic Institution (WHOI). Dr. Robert Walls received his MS degree from Matt at UT Arlington but then joined UMass to work with me, screwing up any pretty graph layout of this genealogy. He's now an Assistant Profesor at WPI. Dr. Kimberly Ferguson-Walter (co-advised with David Jensen) continues to work for the govt. Keen Sung is a Research Scientist at AuCoDe. Most recent is Dr. Pinar Ozisik!
0. PhD 1999 from UC Santa Cruz. MS from UCSC in 1996, both with JJ. I received a B.S. in Applied Math & Computer Science in 1994 from Univ. of Albany, where Prof. Deepak Kapur (now at UNM) allowed me a chance to do undergraduate research. I had no idea what I was doing, but it was a great experience.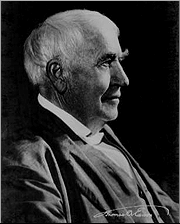 Our god-father advisor!
Kennelly had no graduate advisor, so our search ends. But I count Thomas A. Edison (1847--1931) as his mentor. Kennelly is reported as saying, "The privilege which I had being with this great man for six years was the greatest inspiration of my life." Here's more from a 1931 NYT article (pdf) on the day of Edison's death. As Edison was also self-taught, attending school for a total of three months of his entire life, our search defintely stops there!