Abhishek Roy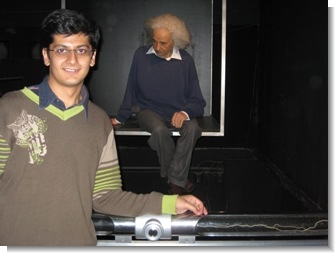 About me
I am a Masters PhD candidate in the College of Information and Computer Sciences at the University of Massachusetts Amherst. I work with Prof. Yanlei Diao in the Database and Information Management Lab.
I completed my undergraduate education in Computer Science and Engineering from the Indian Institute of Technology Guwahati. After graduation from IIT Guwahati, I worked at Strand Life Sciences where I was part of the team developing Strand NGS.
My research is supported by NSF, Google Research, IBM Research, and NEC Laboratories.
Interests
Database Systems, Distributed and Parallel Databases
Large-Scale Data Analysis, Genomic Data Analysis
Curriculum Vitae
Projects
Papers
My Google Scholar Citations page.
Gray Systems Lab. Cloudy with high chance of DBMS: A 10-year prediction for Enterprise-Grade ML. In Conference on Innovative Data Systems Research (CIDR 2020).

Alekh Jindal, Hiren Patel, Abhishek Roy, Shi Qiao, Jarod Yin, Rathijit Sen, and Subru Krishnan. Peregrine: Workload Optimization for Cloud Query Engines. In 10th ACM Symposium on Cloud Computing (SoCC 2019). PDF

Abhishek Roy, Alekh Jindal, Hiren Patel, Ashit Gosalia, Subru Krishnan, and Carlo Curino. SparkCruise: Handsfree Computation Reuse in Spark. In Proceedings of the VLDB Endowment 12(12) (VLDB 2019). PDF

Parallel Processing of Windowed Variant Callers. UMass CICS Technical Report (UM-CS-2018-006).

Abhishek Roy, Yanlei Diao, Uday Evani, Avinash Abhyankar, Clinton Howarth, Rémi Le Priol, Toby Bloom. Massively Parallel Processing of Whole Genome Sequence Data: An In-Depth Performance Study. In ACM SIGMOD International Conference on Management of Data (SIGMOD 2017). PDF

Yanlei Diao, Abhishek Roy, Toby Bloom. Building Highly-Optimized, Low-Latency Pipelines for Genomic Data Analysis. In 7th Biennial Conference on Innovative Data Systems Research (CIDR 2015). PDF

Abhishek Roy, Yanlei Diao, Evan Mauceli, Yiping Shen, Bai-Lin Wu. Massive Genomic Data Processing and Deep Analysis. In Proceedings of the VLDB Endowment 5(12) (VLDB 2012). PDF

Ling Chen, Abhishek Roy. Event Detection from Flickr Data through Wavelet-based Spatial Analysis. In 18th ACM Conference on Information and Knowledge Management (CIKM 2009). PDF
Courses